Iraqi Women: Voices from Exile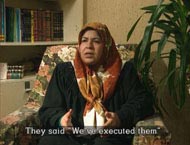 A documentary film by Maysoon Pachachi, Oxymoron Films.
English Subtitles and Commentary
First shown on Channel Four Television (UK), September 1994
50 minutes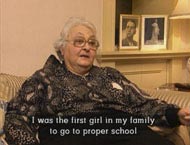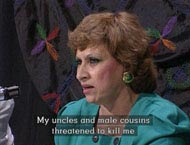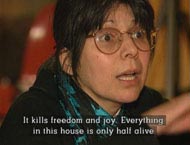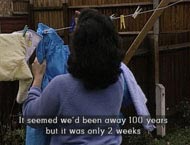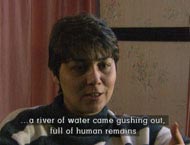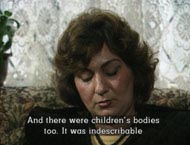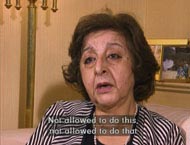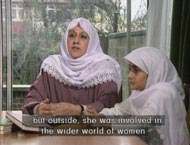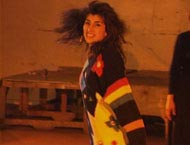 This documentary film recounts the recent history of Iraq through the eyes and experiences of Iraqi women living in exile in Britain. It looks at the lives of women in Iraq both before Saddam Hussein came to power and in the years of repression under his regime.
The women featured include a doctor, guerilla fighter, teacher, theatre director, actress, journalist, young mothers, civil servants and students. They talk about early struggles for women's emancipation, about the growing totalitarianism of the Ba'ath regime, about relatives being abducted, about deportation and exile, prison and torture, about the Gulf War and the failed uprisings that followed it. Their experience has been of struggle, whether for their rights or simply for survival.
'…gives a portrait of the country that is a great deal more realistic and believable that the many images helpfully provided by the media to justify the Gulf War.'
'…its strengths lie in the vivid and emotional testimonies of the participants.'
'…it's trying to do something subtle…tiny, tangible details have total power.'
Viewer Reaction from the Channel Four Screening
'…excellent programme'
'…thank you for this programme…we need more like it'
'Fantastic. Absolutely brilliant'
'…extraordinary documentary – really illuminating'
'…appreciation for a wonderful programme'
Viewer Reaction from US Academic Conference Screening
'…received an extraordinary number of written evaluations – and every one laudatory'
'Powerful is the adjective most often used for this film'
'…excellent documentary and historical narrative…able to persuade'